WHAT IS IT?
This revolutionary blender combines 2 appliances in 1. Engineered with a powerful 1100W motor, Smart Torque and Auto-iQ Technology, now you can go from light and silky to thick and spreadable textures at the touch of a button. Easily create silky-smooth drinks and dressings, sumptuously thick spreads, nut butters and smoothie bowls – no stalling, no stirring, no shaking.
WHAT'S INCLUDED:
1 x 1100W Ninja Foodi Power Nutri Blender with Smart Torque & Auto-iQ Technology
1 x 700ml Power Nutri Cup with spout lid
1 x 400ml Power Nutri Bowl with storage lid
1 x Hybrid Edge Blades
Inspiration Guide
YOUR EXCLUSIVE OFFER:
RATED: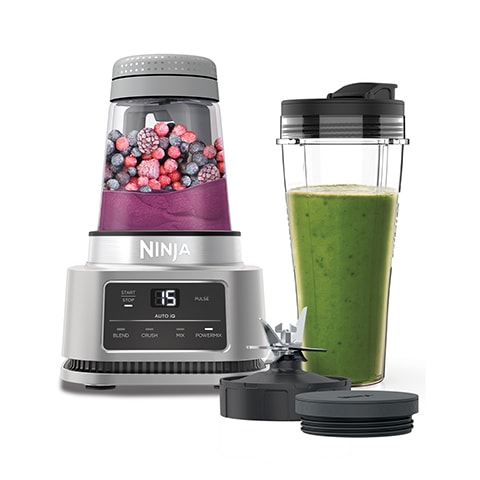 ---
SMART TORQUE
Some blenders can struggle with thick mixtures and can stall or even stop mid-blend. Designed for thick mixtures with less liquid, this 1100W Smart Torque motor powers through the thickest ingredients, meaning there's no stalling and no need to stir or shake your ingredients.
MORE THAN SMOOTHIES
Use the 400ml Power Nutri Bowl to create luxuriously thick textures. Enjoy smooth and crunchy nut butters, thick dips, frozen yoghurt, sorbet and smoothie bowls that rival your favourite shop-bought treat, so thick they won't fall off your spoon. The built-in Power Paddle pushes ingredients towards the blade, so there's no need to scrape or shake thick mixtures.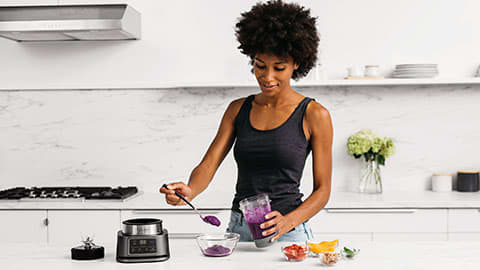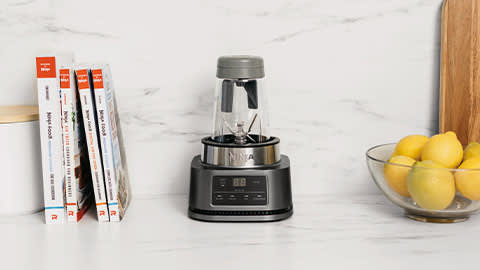 PERFECT FOR SMOOTHIE BOWLS
Love smoothies? You'll love smoothie bowls. Transforming all the flavours of your favourite smoothies into a meal, these super-thick treats are made with delicious frozen fruits, tasty toppings and enjoyed with a spoon. Get creative with layers, flavours and toppings.
LIGHTER TEXTURES
Blend your favourite fresh and frozen ingredients in the 700ml Power Nutri Cup to create silky-smooth drinks, light dips and dressings. Enjoy fresh smoothies, milkshakes, crushed-ice cocktails and add the spout lid to take your drink on-the-go. You can also finely crush nuts, seeds and ice to a super-smooth finish.